New York Home Design: Wendy Goodman
"Neo Victorians" Young Williamsburg Couple collects antiques from the wife's grandmother and the street.
Olive Oil contained in an old glass skull.
I wanted to write a piece about claiming space, any living space and making it your own. This space could be a house, an apartment, a bathroom, office or even a closet. The important thing is that you stake out the space and make every inch of that space exactly what you want it to be. It doesn't matter if you are renting the space or own it. You occupy it, therefore it is yours. It should be a place of comfort, retreat and relaxation. It should reflect who you are. I came upon an article thoughtfully sent to me by a friend. She believed that I would get a kick out of all the different ranges of style found around New York and the creative ways in which the owners decorated their space. Be it large or small, owned or rented, each owner's personality and style comes through in ways that are charming, definitive and beautiful.
New York Home Design: Wendy Goodman
"Neo Victorians" Young Williamsburg Couple collects antiques from the wife's grandmother and the street.
The apartment of clothing designer Anthony Malat and his wife, photographer Jamie, is decorated solely on reclaimed and inherited items. They felt there was a sense of nostalgia that they wanted to represent in their living space. The couple uses creative and innovative was to showcase their antiques and their own personal style. The use of elements is key, for example, using the glass skull as a container for olive oil.
"The office interiors of the film Downfall were a big influence on our color palette. In general, it was a mixture of Flowers in the Attic, Pretty Baby, The City of Lost Children, and Spaceballs." Anthony Malat on what influenced their decorating style.
Desk is a flea market find for $48.00. Malet built the shelves himself. The wood is reclaimed from an old torpedo factory.
Celebrity hairstylist, Steven Knoll wanted more space and found it in a loft style apartment, but had to create character out of a very plain liner design.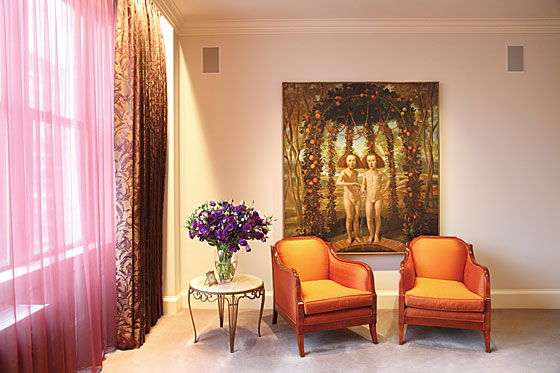 "Neo Formal"
What was once an old factory with raw edged flooring is now an elegant space akin to Paris apartment.Steven Knoll found the space he craved in this 2,500 square foot loft in the meatpacking district.
Knoll designed this room as a dressing room/office. The lighting behind the racks of clothing is an ingenious design touch. The layers of light, fabric and color matched by the richness of the wood are very masculine, yet refined.
"One of my biggest inspirations was all my time spent at the Paris flea market looking at the beautiful antiques.I wanted a large-enough space where I could offer each antique its own place of appreciation.I was also looking for the combination of Park Avenue refinement and grace with a downtown loft's edge and freeness."
Inspiration behind Knoll's apartment decor choices.
Brooklyn real estate designers added warmth by using honey toned wood against stark white to create a beautiful rustic like space.
"Neo-Country"
I love what Brooklyn property owners did to this 1,250 square foot brownstone in Park Slope. It looks modern, yet very comfortable by bringing in the natural elements of the warm wood against the beautiful stark white flooring and stainless steel cooking hood. The best element of all, in my opinion, are the wood beams that intersect the ceiling.
Former Domino magazine editor loves to add English Manor charm to her small Greenwich Village apartment.
English Manor Style in Greenwich Village
Interior Designer, Rita Konig, mixes elements beautifully in this small 700 sq ft apartment.




"I have always liked decorating my small apartments as though they are just a few of the rooms in a much larger house, so you have the feeling that you could, should you want to, wander off to the drawing room, library, dining room, but for the moment are just choosing to be in this rather cozy study. Maybe it is peculiar to the English, but you know how people in huge houses live in a tiny room with all the dogs and the television? This is sort of the reverse of that." Konig's influences.
all photos and quotes courtesy of New York Magazine